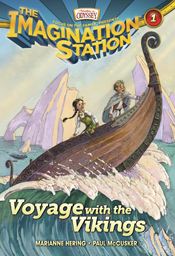 I am always looking for good fun books that kids will enjoy and want to read and with this book
Voyage with the Vikings The Imagination Station book 1 by Marianne Hering and Paul McCusker
I have found just that. It is also a series so it will keep your kids busy reading for awhile. I like the fact that the book has adventure, history and is a Christian book that you don't have to worry about kids reading. I think the kids will love the adventure and not even realize they might be learning about history too in this book.
Beth wants to show her cousin Patrick the Imagination Station so they go to see Mr Whittaker's. He says the station isn't working, but when the two step in, it starts to work. A letter appears and it says Albert is trapped and they have to find a Viking sunstone. Beth and Patrick want to help so they take the Imagination Station back in time to the Vikings to find the sunstone. Will Beth and Patrick be able to find the sunstone, retrieve it and get back to the Station and home? Will Leif Erikkson help them find it or will his Dad Erik the Red harm them? Will they be able to get the sunstone and help Albert? You will have to read the book to find out.
I enjoyed this book even at my age. I think the quest will be great fun for your kids and they will want to read this book and the rest of them too. It is a great book for kids age 6 to 10 they will really enjoy reading this book.
The next book in the series is
Attack at the Arena The Imagination Station Book 2 by Marianne Hering and Paul McCusker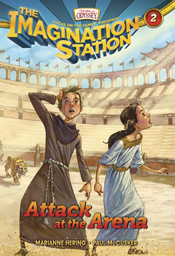 In this book the cousins Beth and Patrick continue their quest to help Albert and go back to 5th Century Rome.
If you want more information on this book check it out at
http://tyndale.com/Voyage-with-the-Vikings/9781589976276#.U7wT7PldV8E
You can find more information on this series and other kids books at
http://tyndale.com
Until Next Time:
GRAB A CUP OF COFFEE OR TEA, SOME CHOCOLATE, A GOOD BOOK AND KEEP ON READING AND LET'S GET OUR KIDS READING TOO!