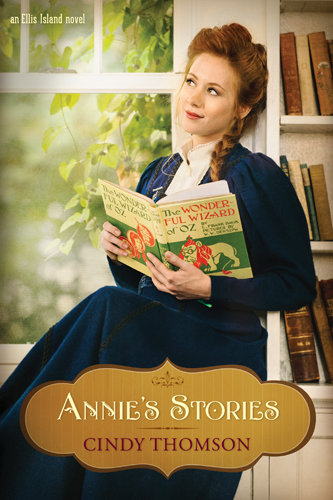 Annie's Stories An Ellis Island Novel by Cindy Thomson is a wonderful historical fiction book. Annie is the housekeeper at Hawkins House where she was brought after being rescued from the Magdalene Laundries in Ireland. Her mother died when she was a baby and her father, with Annie, would travel around Ireland because her father was a storyteller. When he died Annie had no one but a mean Uncle who did not want her and when her cousin Aileen tells a lie her Uncle sends Annie to the laundry.
Annie gets a second chance when she is rescued from the laundry and sent to live with Mrs. Hawkins at the Hawkins House. She only has her stories her father left her of her past life with him and the rest of her past she wants to forget.
This book is Annie's story of second chances and finding her strength to move on and she is determined not to depend on anyone but herself. Can Annie move past the hurts and memories that haunt her from the laundry? Will she ever be able to make her dreams reality? Most of all will she find that she is not unloved and forgotten by God? Will she find Love again for God, herself and a man to love her like the postman Stephen?
I loved this book. I love how Cindy Thomson makes books, reading and especially the book The Wizard Of OZ by Frank Braum an important part to Annie's story. I love how strong and independent Annie is and the heart for others she has. Annie grows as a person throughout the book and you find yourself caught up right along with her. You begin to feel a part of this story too and it is written where you can just feel Annie, Mrs Hawkins , Stephen and all the other characters could be people you know. This book is a book about second chances, moving on from the past hurts and holding on to the good memories, about love and learning to rely on Faith and God. You see with Annie that she has to come to realize that God can love her and that God never left her but was always with her. She has to love herself and realize she is lovable before she can become whole and achieve what she wants to in the future. Very uplifting and wonderful book.
This book combines the love of books, reading with history of family, books, publishing and the time period. If you are a lover of books, history, genealogy and good historical fiction then I believe you will love this book. I would recommend this book to all it is well worth the read.
If you want more information about this book, the Ellis Island Novels or the author visit her website at
check out the book trailer here



I was given a free copy of this book from Tyndale Publishing in exchange for my honest review of the book
Until Next time:
GRAB A CUP OF COFFEE OR TEA, SOME CHOCOLATE, A GOOD BOOK AND KEEP ON READING!