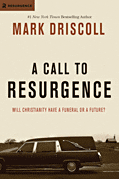 A Call to Resurgence
by Mark Driscoll is a must read for Christians. Mark tells us that we need to wake up and realize that if we don't start looking at what is going on in our country when it comes to Christians then our churches and Christians are going to go away. It is a call for us, as believers, to get our heads out of the sand and to start back to the basics in putting God first.
This is a well written book that is thought provoking and eye opening. If you think that Christianity in our country is going strong this book will show you that is not true. We need to move on from the feel good religion into a working meaningful relationship with God and strive to be like him in all we do. We are still in the business of taking care of others and being the light in a dark world not a hide behind the church Christian.
I really think that this book should be read by all that are believers and that we need to be a part of the resurgence.
Good book to read.
This book was given to me by
Tyndale Publishing
for free to give my honest opinion and review.